SHINKO PRINTING (THAILAND) CO., LTD.
Entrust us about Printing service.
PROMOTION
Coated Duplex Board Paper Grey

400gsm
Brand;SNDU
Size;Width 25inch (635mm), Any length, In Roll or In Sheet
Delivery;about 1 week ( domestic sales only )
Usage;Electronics, Cosmetics, Foods, Shoes..., Printing & Packaging
☆ We also accept finished products such as packages using this
☆ We have more sizes available.. 450gsm..etc
---
Original Tabletop Calendar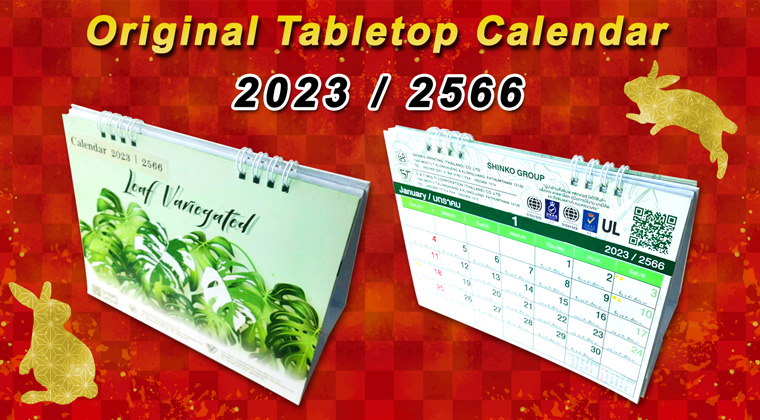 Original Tabletop Calender


● Print Double-sided

● Width 215mm x Height 148mm (A5 size)

● Name Printing in Cover and All Pages

● Order starting from 50pcs.

● Big discout, if you have the compleated data

or Order in Bulk
---
Reduce-Plastic Labelstock "PLALESS" series
Transparent laminate type
Plastic-alternative overlaminate film

● Facestock is cellulose film which is made of pulp.

● High transparency and suitable for overlamination.

● Protects the printed surface from discoloration and deterioration
due to friction and keeps the appearance.

● Japan Organic Resources Association certified Biomass Mark registered (as facestock).
(Registration No.: 200076)

● Laminate film made in Japan with highly reliable.

| | | |
| --- | --- | --- |
| Test item | General (PP20 NPL 7LK) | PL2055L |
| Haze (%) | 1.8 | 1.8 |
| 60° Gloss | 150 | 150 |
| Scratch Resistance | ○ | ○ |
*Scratch Resistance: Taber abrasion test, 4.9N load, 100 Cycles, ONo scratch, △Minor scratches, ×Major Scratches
* Values are for reference only. does not consist guarantee of it's performance nor quality.
Overlaminate material for display and POP labels in foods, commodities, cosmetics and more
---
Round Double-sided tape 19 mm (5000NS).
0.2 THB/pcs. 500 pcs/pack. Diameter 19 mm. Thickness 0.16 mm
Very popular double-sided adhesive tape
It can be used for fixing OA equipment, home appliance cushions and sealing materials.
The base material is soft and strong non-woven fabric. It is removable and has strong adhesive.
Please feel free to make an inquiry below if you have any questions related to the purchase.
| | | | | |
| --- | --- | --- | --- | --- |
| | info@shinko-print.co.th | | | 0-2908-2007~8 |