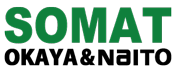 SOMAT CO., LTD.
Sale of Machine tools,Machine tool peripherals, Machine,Measuring equipment, Industrial equipment
| | |
| --- | --- |
| Safety working shoes | |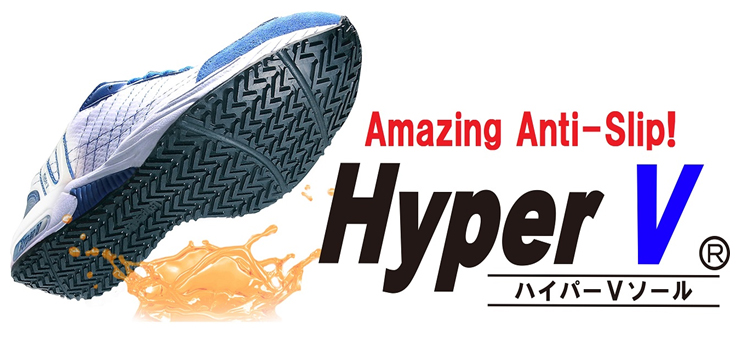 ​
Hyper V® has amazing anti-slip ability on the floors covered with water, oil and soap
 3 excellent features of Hyper V®  
V1 . Drastic improvement of Anti-slip performance
- 2.5 times higher than before
Hyper V® has an excellent anti-slip performance especially on the floors covered with water, oil, and soap. The performance was admitted at the highest level, that is level 5 by "Japanese Ministry of Health, Labor and Welfare".
---
V2 . Long lasting shoe sole
With special materials, the shoe sole lasts longer than a conventional model.
---
V3 . Decrease risk of slipping down
Change over from static friction to kinetic friction very smoothly.

Decrease risks of slipping down accident.

Caution: Anti-slip performance of Hyper V® can be lowered by icy road, surface of ice, etc., and heavy dirtiness of the shoe sole.
■ JIS & JSAA Comparison table
Standard
JIS Standard T8101
JSAA Standard
Safety Shoes
Protective Sneaker
Grade
H type
S type
L type
B type
Heavy Industry
General Industry
Light Industry
General Industry
Light Industry
Shock Resistance
Impact energy (J)
100
70
30
70
30
Striker mass (Kg)
20±0.2
20±0.2
Drop hight (cm)
51
36
15
36
15
★ Pressure Resistance (kN)
15±0.1
10±0.1
4.5±0.04
10±0.1
4.5±0.04
​

★ Pressure Resistance (kN)

【Remark】

*JIS S type = JSAA A type
Hyper V #9000, #9100,#5100
SPIDER MAX #6000, #6100, #6200

*JIS L type = JSAA B type
Hyper V #2000, #206,#906MG

*Toe : Steel and Resin are same standard.

*Pressure Resistance of General Nisshin rubber safety shoes is about 10 t.
(Which has toecap.)
■ Hyper V® Safety Shoes/Sneaker series
#9000 JIS Standard Safety Shoes
​

JIS T8101 Safety Shoes

| | |
| --- | --- |
| Weight​ | :500g (26.0cm/42, per) |
| Upper​ | :Natural leather |

​​
Size
| | | | | | | | | | | | | | | | |
| --- | --- | --- | --- | --- | --- | --- | --- | --- | --- | --- | --- | --- | --- | --- | --- |
| JPN | - | - | - | - | - | 24.5 | 25.0 | 25.5 | 26.0 | 26.5 | 27.0 | - | 28.0 | - | 29.0 |
| EUR | - | - | - | - | - | 39 | 40 | 41 | 42 | 43 | 44 | - | 46 | - | 48 |
---
#2000 Hyper V


​​ ​​

Lightweight Safety Sneakers

Weight​

:340g

(26.0cm/42, pair)​

Upper​
:Synthetic leather, Mesh

​​

​Size
BK, WN
JPN
-
22.5
23.0
23.5
24.0
24.5
25.0
25.5
26.0
26.5
27.0
-
-
-
29.0
EUR
-
35
36
37
38
39
40
41
42
43
44
-
-
-
48
GRY, BL, CHC
JPN
-
-
-
-
-
24.5
25.0
25.5
26.0
26.5
27.0
-
-
-
29.0
EUR
-
-
-
-
-
39
40
41
42
43
44
-
-
-
48
---
#6000 SPIDER MAX
​​ ​​

JSAA A-type Protective Sneakers

Weight​

:

455g (26.0cm/42, Pair)
Upper​
:Synthetic leather, Natural leather


​
​​​
​Size
| | | | | | | | | | | | | | | | | | |
| --- | --- | --- | --- | --- | --- | --- | --- | --- | --- | --- | --- | --- | --- | --- | --- | --- | --- |
| JPN | - | - | - | 22.5 | 23.0 | 23.5 | 24.0 | 24.5 | 25.0 | 25.5 | 26.0 | 26.5 | 27.0 | - | 28.0 | - | 29.0 |
| EUR | - | - | - | 35 | 36 | 37 | 38 | 39 | 40 | 41 | 42 | 43 | 44 | - | 46 | - | 48 |
---
#6100 SPIDER MAX
​​ ​​

JSAA A-type Protective Sneakers​

| | |
| --- | --- |
| Weight​ | :425g (26.0cm/42, Pair) |
| Upper​ | :Synthetic leather, Natural leather |

​​​
​Size
| | | | | | | | | | | | | | | | |
| --- | --- | --- | --- | --- | --- | --- | --- | --- | --- | --- | --- | --- | --- | --- | --- |
| JPN | - | 22.5 | 23.0 | 23.5 | 24.0 | 24.5 | 25.0 | 25.5 | 26.0 | 26.5 | 27.0 | 27.5 | 28.0 | - | 29.0 |
| EUR | - | 35 | 36 | 37 | 38 | 39 | 40 | 41 | 42 | 43 | 44 | 45 | 46 | - | 48 |
---
#6200 SPIDER MAX
​​ ​​​

JSAA A-type Protective Sneakers

Weight​

:

470g (26.0cm/42, Pair)

Upper​
:Synthetic leather, Natural leather

​​​
​Size
| | | | | | | | | | | | | | | | |
| --- | --- | --- | --- | --- | --- | --- | --- | --- | --- | --- | --- | --- | --- | --- | --- |
| JPN | - | 22.5 | 23.0 | 23.5 | 24.0 | 24.5 | 25.0 | 25.5 | 26.0 | 26.5 | 27.0 | - | 28.0 | - | 29.0 |
| EUR | - | 35 | 36 | 37 | 38 | 39 | 40 | 41 | 42 | 43 | 44 | - | 46 | - | 48 |
| | | |
| --- | --- | --- |
| | ★ Upper material | ★ Bottom material |
| Hyper V #2000 | Synthetic fiber, Synthetic leather | Hyper V Sole |
| Hyper V #206 | Synthetic leather | Hyper V Sole |
| Hyper V #906MG | Synthetic fiber, Synthetic leather | Hyper V Sole |
| SPIDER MAX #6000 | PVC leathercloth, Leather | Hyper V Sole |
| SPIDER MAX #6100 | PVC leathercloth, Leather | Hyper V Sole |
| SPIDER MAX #6200 | PVC leathercloth, Leather | Hyper V Sole |
| Hyper V #9000 | Leather | Mid Sole: Polyurethane / Bottom: Hyper V Sole |
| Hyper V #9100 | Leather | Mid Sole: Polyurethane / Bottom: Hyper V Sole |
| SPRIGGAN #55 | Synthetic leather, Mesh | Synthetic rubber |
| Hyper V T-250 | Synthetic leather | Hyper V Sole |
| Hyper V #228 | Synthetic fiber, Synthetic leather | Hyper V Sole |
| Hyper V #211 | Synthetic leather | Hyper V Sole |
| Hyper V #970AGG | Synthetic fiber, Synthetic leather | Hyper V Sole |
| Hyper V #1300 | Synthetic fiber, Synthetic leather | Hyper V Sole, Synthetic rubber |
| Hyper V #1200 | Cotton | Hyper V Sole |
| Hyper V #1000 | Cotton | Hyper V Sole |
| Hyper V #003 | Synthetic fiber, Synthetic leather | Hyper V Sole |
| Hyper V #5000 | Synthetic leather | Hyper V Sole |
| Hyper V #5100 | Synthetic leather | Hyper V Sole |
| Hyper V #720 | Synthetic leather | Hyper V Sole |
| Hyper V #5400 | Synthetic leather | Hyper V Sole |
| Hyper V #700 | Synthetic fiber, Synthetic leather | Hyper V Sole |
| Hyper V #4000 | PVC | Hyper V Sole |
| Hyper V #4200 | PVC, Synthetic leather | Hyper V Sole |
| Hyper V #4500 | PVC | Hyper V Sole |
| Pitatto Ⅲ | EVA | Hyper V Sole |
| Hyper V #5740 | Synthetic leather | Hyper V Sole |
| Hyper V #5741 | Synthetic leather | Hyper V Sole |