Thai Shinryo Ltd.
Experts in design and construction of various types of plant equipment
District Cooling System (DCS)
Centralized Energy Supply to create Environment Friendly.
---
All of projects, Thai Shinryo have completed with customer satisfactions for achieving project purposes. For our first projecthaving total cooling capacity with 8,400 RT in the project of "CHILLER PLANT FOR TG CATERING FACILITIES - SBIA", it was complete installed and operated for supplying chilled water in September 2006. And our present project having total cooling capacity with 4,000 RT of the project "ELECTRIC CHILLER FOR PTC CHILLER PLANT", it will be completed andready for serving chilled water to Suvarnabhumi International Airport in January 2012.

In addition, we help the customers to increase energy efficiency and to reduce environmental emissions by efficient district cooling systems in our projects.

District Cooling System

A District Cooling System (DCS) distributes chilled water from a central plant to building individually through a network of underground pipes to use in space and process cooling. The thermal rejection is usually provided from the central plant, for eliminating the need of separated systems in the individual buildings. It is suitable for buildings i.e. offices, shopping centers, hotels, and residents, however, it is also suitable for densely area where demand cooling.

We can design, supply, install and start up systems of the new chiller plant or improve the existing chiller plant followed customer's need. Our design and procurement have high efficiency, availability and reliability which are also easy for maintainability.

Electric Chiller

Electric chiller uses as downstream chiller. It driven by electricity utilizes the vapor-compression refrigeration cycle to produce cooling power operating on the heat pump principle. Coefficient of Performance (COP) of electric chiller is higher than absorption chiller.

Steam Absorption Chiller

Steam absorption chiller is driven by a heat source. This heat is usually delivered to the chiller via steam. Compare to electric chiller, absorption chiller consume electricity lower than.

Basic Difference between the Electric Chiller and Absorption Chiller

The electric chiller uses an electric motor to operate a compressor for increasing the refrigerant vapor pressure, while the absorption chiller uses heat to compress the refrigerant vapor pressure for becoming to high pressure as concluded in below table.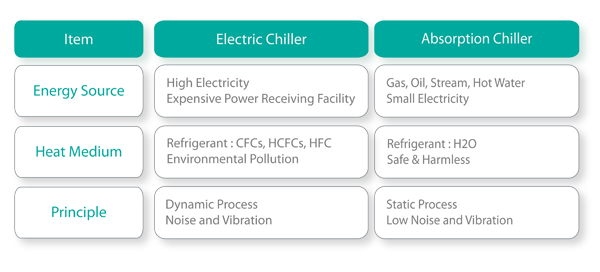 Thermal Storage Tank

Thermal storage is the temporary storage or removal of heat for later use. It can be used to balance the energy demand between day time and night time.

1. Chilled Water Storage

Chilled water storage is most common on very large projects where ample space is available. The steel or concrete tank(s) can be located either above- or below-ground. In some cases, the stored water can serve to provide some or all the fire protection water storage. Adding chilled water storage is also an option for an existing facility to meet immediate growth needs.

2. Ice Storage

There are two basic types i.e. ice building systems (static systems) and ice harvesting systems (dynamic systems). The main advantage of ice storage is that it requires less space, can provide colder air to the building, and reduces duct and fan size; with an offsetting disadvantage of consuming more chiller energy.

Ice storage, being more compact, is most common on smaller commercial buildings or where space for the storage is limited.

Experienced Projects
---
---