TOYOTA MATERIAL HANDLING (THAILAND) CO., LTD.
Material Handling Equipment (AS/RS, AGV, etc.) Sales, Installation, After-Sales Service

---
​Moving Rack
─ Storage for heavy objects and pallets to small items with reduced aisle space. ─
---
Space-saving rack that spreads an aisle when it is necessary to take out the load. Storage space is about twice what of static racks can store in the same space.

Efficient warehouse operation and management can be performed by eliminating various wastes such as duplication of personnel and equipment, time of storage and picking.

​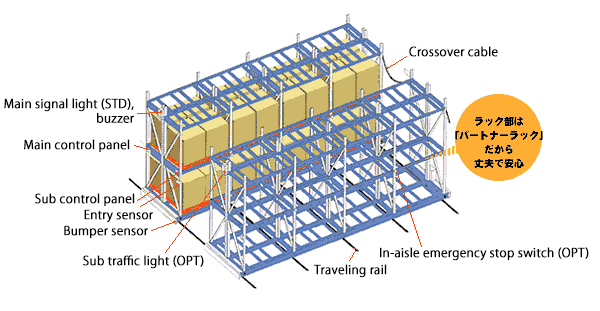 ​
1. Convenient functions considering the operation
Pursuing a site that is easy to work with, Toyota has been equipped moving racks with various functions.
2. Easy operation with one button
Anyone can use the "Moving Rack" function.
The one-button operation by the large-sized switch which is easy to operate.
3. Triple safety design
The safety control of the rack itself as well as notifying the operator of the condition of the rack by sight and hearing contributes to accident prevention.

Moving Rack Railless Type Movement Type / GENEO-R

>

Variation / Specification
Ideal for storing heavy goods & pallets
It can use for storage of accessories such as electronic parts

Heavy weight series

Rail type · Railless type
[Standard specification]
Operating temperature range: -10℃ to 40℃
[Refrigeration specification]
Operating temperature range: -30℃ to 40℃

Light and medium weight series

Rail type
L type (lightweight) / load/level: 150kg
M type (medium weight) / load/level: 200 kg
​Type K (medium volume) / load/level: 300 kg / 500 kg
---
Please feel free to contact us with product details, questions and inquiries.

​
---