OIZURU (THAILAND) CO., LTD.
Total Packaging Solution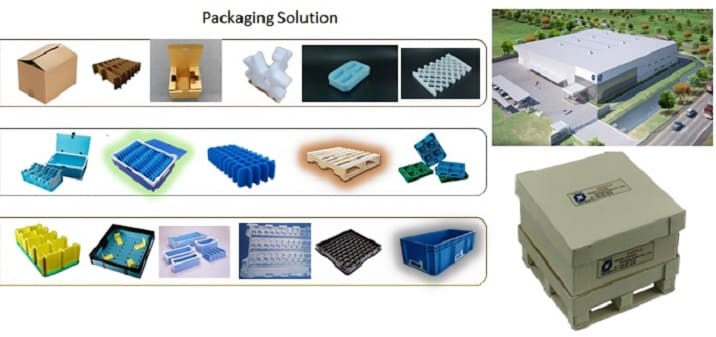 Total Packaging Solution
As a total packaging solution company, we will use our packaging design technology to solve your packaging and logistics problems in Thailand.
Factory is in Chonburi.
Company Name
OIZURU (THAILAND) CO., LTD.
Representative Person
Mr. Yamazaki
Business Description
Design, manufacture, and sale of various packaging products in Chonburi Thailand. (Amata City Chonburi)
Product Line
● Corrugated Carton Box
● Plastic Container Returnable Box
● Plastic Corrugated Box, Sumiceller, Paulownia, MC Nylon
● Cushioning Foams (Suntec foam, EPE foam, EVA foam)
● Vacuum Forming Tray (A-PET, PP, PS, etc.)
● Pallets (plastic, wooden, paper, Steel Pallet)
● Trolley、Dolly
● Other Packing Materials (PE bag, Poly Bag, Air Bubble, Film, Anti-Rust Film, Desiccant, Drying agent)
Head Office, Factory
Amata City Chonburi Industrial Estate
No, 700/887 Moo 3 T.Nongkakha, Phan Thong, Chonburi 20160
Thailand
TEL 038-210-757
FAX 038-210-763
E-mail k_yamazaki@oizuru.co.th (Mr. Yamazaki:Managing Director)
Contact


Thailand
TEL 06-2597-2764 (Japanese Mobile:Mr. Ikeda)
E-mail h_ikeda@oizuru.co.th
Website
https://www.oizuru.co.th/
https://www.facebook.com/OizuruPackaging/
https://oizuru-thailand-coltd.business.site/
Establish Date
28 August, 2002
Parent Company
Oizuru Corporation, Japan
Shareholder
Oizuru Corporation: 70%
Asahi Kasei Corporation: 15%
Chugen Co.,Ltd: 15%
Employee
120 people (Japanese: 5)
Certificate
ISO 9001
ISO 14001
Major Customer
SIAM DENSO Manufacturing Co., Ltd.
TTK Logistics (Thailand) Co., Ltd.
Okamoto Logistics (Thailand) Co., Ltd.
RICOH Manufacturing (Thailand) Ltd.
CANON Prachinburi (Thailand) Ltd.
Aisin Thai Automotive Casting Co., Ltd.
Tenma (Thailand) Co.,Ltd.