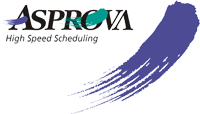 Asprova Thailand
The best production scheduling system in Japan with 58.4% market share
What is Asprova?
Production scheduling Software (Asprova) creates production schedules quickly for multiple items and multiple processes, realize visualized management, even shorten lead times, reduce inventory, enhance delivery rate increase customer profit.
---

 Request free trial version. After download free trial version, let's create your own prototype. 

---
​​Asprova has developed a solid reputation among many users in the manufacturing industry and is being implemented in a growing number of factories in various fields. In this section we will see Asprova's role and what Asprova is contributing in actual production plants.
Company Name
Asprova Thailand
Representative Person
Representative Director: Kuniyoshi Takahashi
Business Description
Researching, developing and selling the production scheduling system Asprova APS
as well as system integration and system consultation.
Product Line
Production scheduling system Asprova
Address
2170 (Unit 1404), 14th Floor, Bangkok Tower, New Petchuburi Road, Huai Khwang, Bangkok 10310
Thailand
TEL 02-308-0965
FAX 02-308-0956
Contact List
info@asprova.com
Chompunoot S.: Chompunoot.Suriyawong@th.panasonic.com
Mr. Fujii : 080-3411-3008 (Japan) fujii@asprova.com