Takahashi Spring (Thailand) Co.,Ltd.
Are you looking for a reliable Precision Wire Springs maker?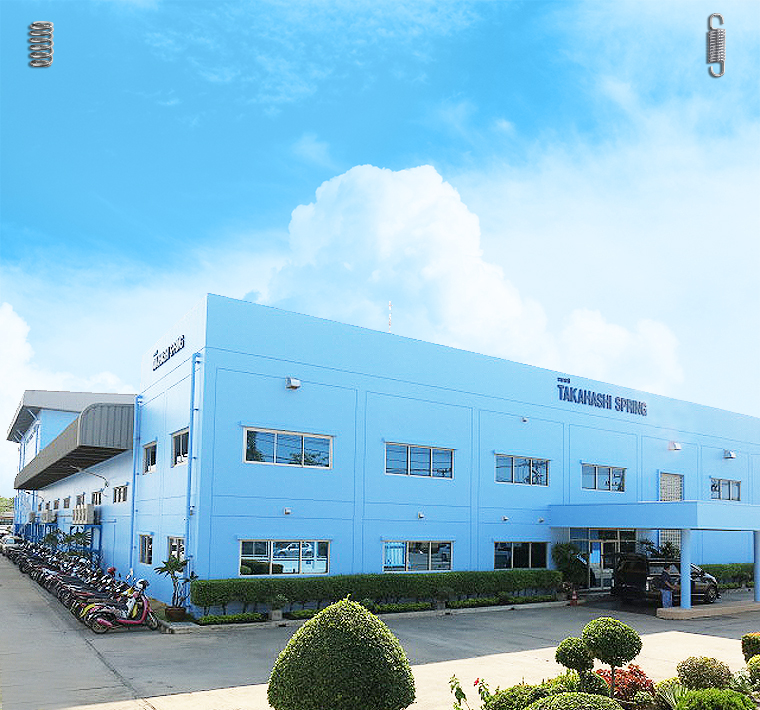 Takahashi Spring Thailand is determined to be No.1
Spring Maker that oriented to customer satisfaction.
TAKAHASHI SPRING THAILAND was founded in 1996 to assist the customers in overseas production. Since then, we have provided the products of stable quality in time at optimal cost in order to materialize our passion for product quality.
All Processes are routinely reviewed for further improvement as "Kaizen" activity especially in terms of Quality Inspection, Work environment, and Human resources development while practicing our unique QC system which plays important role for competitive success.

​ We will continue to make best efforts to meet the customers' expectations by further refinement on our strength: agility and ability to make proper proposals.
Company Name
Takahashi Spring (Thailand) Co.,Ltd.
Representative Person
Managing Director : Mr.KunimitsuTakahashi
Business Description
Manufacturing for Precision Spring, Press Parts, and Assembly of Metal Parts
Product Line
Compression Spring
Torsion Spring
Extension Spring
Wire Form
Press Parts and Assembly Products
Main Office
Bangpa-In Industrial Estate
582 Moo2, Udomsorayut, Tambol Klongjig, Bangpa-In District,, Bang Pa-in, Ayutthaya 13160
Thailand
TEL
0-3525-8228, 0-3525-8230
FAX
0-3525-8229
E-mail : info@takahashispg.co.th
E-mail (Mr.Ando) : 【Mobile】 087-062-0303  【E-mail】 ando@takahashispg.co.th
Employee
260 persons (as of Jun 2019)
Certificate
ISO 9001: 2015、ISO 14001: 2015、IATF 16949: 2016