THAI SEISEN CO., LTD.
We Thai seisen provide high quality products that satisfy you.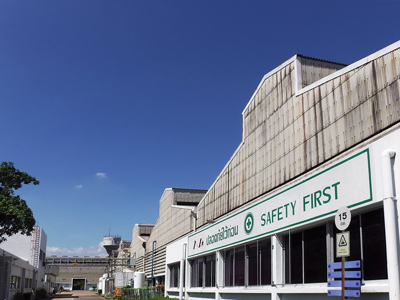 For stainless steel wires, please leave it to Thai seisen.
Our company was established in 1988 as a manufacturing and sales base in Thailand by Nippon Seisen Co., Ltd., which is a stainless steel wire manufacturer of the Daido Steel Group.
Starting from soft wires / cold heading wires used for screws and kitchen miscellaneous goods etc., it is now possible to produce spring wires and fine weaving wires up to 16 μm and automotive parts wires up to 25 mm. And besides, we have oxalic acid coating equipment and inorganic coating equipment and it makes us possible to manufacture steel wires with coating for cold/warm heading which is difficult to process.
We will continue to challenge ourselves for high quality requirements every day and provide products that satisfy our customers.
Company Name
THAI SEISEN CO., LTD.
Representative Person
Masateru Yamamoto, President and CEO
Business Description
Manufacture and sale of stainless steel wires
Product Line
Spring Wires (JIS G4314-WPA & -WPB)
Cold Heading Wires (JIS G4315-WSA & -WSB)
Weaving Wires (JIS G4309-W1)
Fine Weaving Wires (JIS G4309-W1)
Wires for Automotive Parts and Cold Headings
Free Cutting Wires
一Wires for General Usages (JIS G4309-W1, -W2 & -W1/2H)
Wires for Welding Semi-Materials
Wires in Cut Length​
Address
Bangpoo Industrial Estate
533 Soi 8, Moo 4, Sukhumvit Road, Praeksa, Mueang, Samutprakarn 10280
Thailand
Contact List
Japanese (Nagaki) : s-nagaki@t-seisen.com
Thai (Mr.Pamornpol) : pamornpol@t-seisen.com
TEL 02-324-0414
FAX 02-324-0419
Parent Company
Nippon Seisen Co., Ltd.
Kogin Building , 4-1-1 Koraibashi, Chuo-ku, Osaka-shi
Tel: 81-6-6222-5431
Shareholder
Nippon Seisen Co., Ltd.
Daido Kogyo Co., Ltd.
Employee
189 persons(as of August, 2019)
Certificate
ISO 9001 : 2015
JIS G4309
JIS G4314
JIS G4315