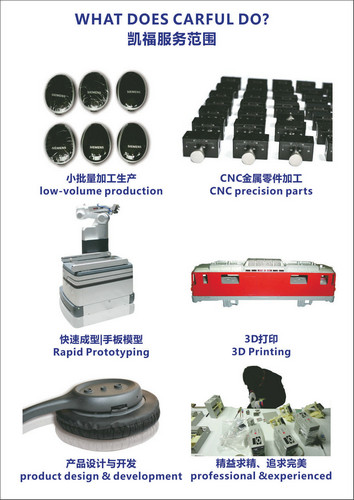 Company Intro
Carful Co., Ltd. was found in 2002, adhering to the spirit of "professional, high-quality, efficient, honest "and "quality assurance, reasonable price, prompt delivery, thoughtfully service" for the principle, after the exertion and innovation in recent years, we has developed into a professional and experienced company that include
1,rapid prototyping (model making)---with almost all of the plastic and metal
2,low-volume production---with CNC,3D printing,Vacuum Casting,Rapid tooling,etc.
3,Product design and development---RE(Reverse Engineering),ID(Industry Design) and MD(Mechanical Design), etc.
also we can provide you one-stop service that include molding ,injection, manufacturing and assembling. We have an excellent team which can provide you with efficient and reliable technical service and support.
Carful has purchased 3 high speed and precision CNC this year, now having four CNC high speed craving machines, two precision CNC machines, two CNC lathe; various types of rapid tooling processing equipment with milling, sparking, line cutting, PU casting;we have other professional and high-tech equipment that used for rapid prototyping of such as SLA. We have extensive experience and unique level on various types of industries that made of metal and plastic, such as automobile products, medical equipment, industrial equipment, home appliances, digital and telecom products etc.
We have lots of customers in Europe, America, Japan and South Korea and every parts of China. Over the past decade, through the cooperation with many international and domestic well-known companies, especially Germany, France and other European customers, let us master the exquisite technology, accumulate rich experience, summarized and improved the processing process, to ensure that every order can be done well on time.
Because of the highly attention to quality, we win the long-term cooperation with some world famous companies such as Philips, Siemens, Nokia. We gradually build up rigorous quality control system to ensure that every product can exceed customers' expectation.
CARFUL: Realize your ideas; we assure your excellence with low cost!
Company Name
Carful Co., Ltd.
Carful Co., Ltd.
Representative Person
gavin
Business Description
Service and application

Carful can provide you the rapid and satisfactory service in the field of product design, prototype making, batch processing. Meanwhile we can meet your requirement of different materials, processing technology and industries.

Rapid Prototyping

The classic ideas and reasonable structure, must be ultimately verified by prototype and model. Carful uses the required materials, with the process of CNC machining, laser rapid prototyping etc. and many technology such as grinding, polishing, fuel injection, screen printing, pad printing, laser engraving, sandblasting, electroplating, oxidation, drawing, the UV, relief etc. to complete the verification of the appearance, structure or function of your design.

1.Analyzing by processing methods, we can process the following prototypes and models :

CNC plastic prototype: with the material of: ABS, acrylic, PP, PC, POM, nylon, wood, etc;

CNC metal prototype: with the material of:aluminum, aluminum - magnesium alloy, aluminum - zinc alloy, copper, steel, iron, etc;

Laser rapid prototyping: SLA, SLS, FDM, 3D printing ;

Rapid Tooling: rapid metal tooling, silicone molding, low-pressure pouring mould

Hand-carved making: with the material of: fatlute, foam, plaster, and so on.

2. Analyzed by application, we can process the following prototypes and models :

automobile components prototypes: automobile and motorcycle parts, car dashboard, shade and other parts;

medical devices prototypes: x-ray, blood dialysis device, monitor, foot care boxes

Industrial equipment prototypes: testing equipments, intelligent robots

Household appliances prototypes:such as color TV, air conditioning, electric fans, electric oven, monitors, kettles, coffee makers, electric fans, electric cooker, juicer, Blender, etc.

Digital telecom prototypes:such as mobile phones, telephones, fax machines, doorbell, cameras and others

low-volume production

In industrial production, because of the different processes, costs, quantities, there are many parts that can`t use mass production by machines, which require a certain special technology to manufacture them with small batch. also they may need manual processing. We mainly use CNC to do the small batch processing.

1.low-volume production of plastic parts , with the material: POM, ABS, transparent acrylic (commonly known as PMMA), PC;

2. low-volume production of metal parts, with the material: aluminum, aluminum - magnesium alloy, aluminum - zinc alloy, copper, steel, iron, etc.

Product design

1. RE(reverse engineering). the experienced engineers uses precision laser measuring instrument to capture the design data of one product, then complete the design of products.

2. ID(Industry Design). Through market research and analysis, we will keep constantly communicating with customers, Screening, and improving, until we get a good idea that adapts to the market and the consumer.

3. MD(Mechanical Design). On the basis of full understand of the product`s functions, compliance to appearance design, reference to the size and form of various components, we determine the most reasonable structure design.
Product Line
APPLICATIONS AND INDUSTRY
CARFUL provides rapid protoytping services to a variety of industries and for many applications and uses. Below is a sample of those categories and some case studies. If you are ready to have your project quoted by CARFUL, Request a Quote now.

INDUSTRY
• Stereolithography Prototypes
• Medical Prototypes
• Furniture/Chairs
• Consumer Goods
• Handheld Devices
• Plastic Parts - Design for Manufacturability
• Aerospace & Defense
• Automotive
• Industrial
• Architectural Models
• Art Objects from Rapid Prototyping
• Military Industry
• Toys
Fufang S&T Park
2F,Bldg.C,Fufang S&T Park, Fuyong Town, Baoan District, Shenzhen, Guangdong
China
Website
◆Address:2F,Bldg.C,Fufang S&T Park, Fuyong Town, Baoan District, Shenzhen, Guangdong, China
◆Tel: +86-755-27150460
◆Fax: +86-755-27658255
◆M.P.:+86-15999640890
◆E-mail:gavin@carful.net
◆MSN: carful@live.com
◆Skype: gavin.cwh
◆Website: http://www.carful.com.cn (CN+EN)
◆Website: http://www.prototype-cn.com (EN)
##cookieAndPrivacyPolicy##