Montek Asia Co.,Ltd.
Trusting Montek Asia total support LED lighting in Thailand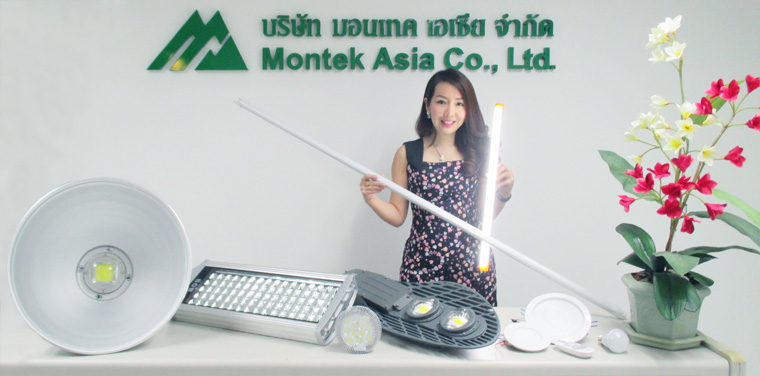 Montek Asia is based in Bangkok, Thailand and we are committed to spreading LED lighting in South East Asia and also globally. We not only sell products, but also provide various proposals for customers by deeply understanding their current situation and we can solve various issues that are associated with lighting installation so that customers can be fully satisfied. For any questions related to LED lighting, please feel free to contact us. Your requests for proposals, assessment, installations, and after-sales support will be met through our One-Stop Service.
Company Name
Montek Asia Co.,Ltd.
Business Description
・Sales of LED lighting for enterprises (fluorescent lamp type, mercury lamp type, street light type, etc.)
・Replacement proposal from existing lighting to LED lighting
・Collective management from installation of LED lighting to our after-sales service
・Establishment of assembly plant in Thailand for the purpose of enhancing cost competitiveness in production and sales. (Under preparation now).
Product Line
LED lighting for enterprises (fluorescent lamp type, mercury lamp type, street light type, etc.)
Location
257/1-2 Soi.Patthanakarn 1, Patthanakarn Rd, Suan Luang, Bangkok 10250
Thailand
TEL 02-719-8400(Auto 6 Lines)
FAX 02-719-8807
Shenzhen Office
B building, Jianxin Road, Longgang Subdistrict, Longgang District, Shenzhen
China
TEL +86-150-1276-8307
E-mail apple@tymy.hk
Bank
Bangkok Bank, Kasikorn Bank