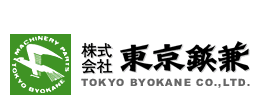 TOKYO BYOKANE (THAILAND) CO., LTD.
As a total fastening products supplier, our technology and reliable global networking meet customers demands
Since our establishment in 1941, our company has been developing, manufacturing and selling metal-processing parts, mainly springs, which are indispensable for industrial equipment.
Our expanding global network garantees the quality products through their best sources. Each product appeals its high functionality.
► Japanese Network  ► Overseas Network
| | | |
| --- | --- | --- |
| Screw | Spring | Machining (Cutting) |
| Stamped (Pressed) | Die-cast Parts | MIM (Metal Injection Molding) |
| Resin-based Products | Plastics | New Material Products |