Ishida Taiseisha (Thailand) Co., Ltd.
Price-competitive and high quality translation service targeted for ASEAN area
ITP's translation consulting
Our original database management realizes cost cut and long-term stable quality in translation.
Manuals, catalogues, company profiles, websites, videos, etc., all kinds of media can be translated.
ITP has so far made 80 long exclusivity contract (3 or more years) with Japanese companies based in ASEAN!
Ishida Taiseisha (Thailand) is professional on translation using know-how of technical information.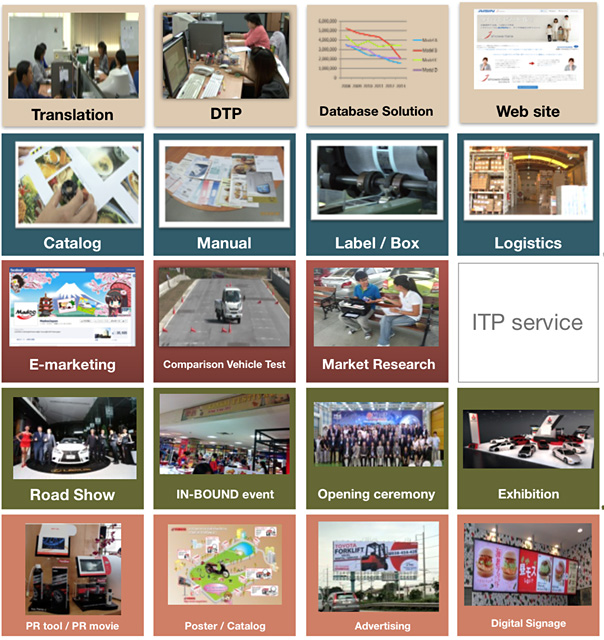 22 Jan 2019

17 Jan 2019

16 Jan 2019

15 Jan 2019

11 Jan 2019
U-MACHINE

U-MACHINEはタイで活躍する製造業に携わる日本人に向けて情報発信している『日本語工業月刊誌』です。
少しでも多くタイのビジネス情報をご提供することで、在タイ日系製造業が部品、材料、素材などの国内調達やタイでのビジネスを円滑に行うお手伝いができると信じております。
タイ経済ニュース【​2019年1月14日】

---
軌道交通関連工業 BOIが特別投資優遇
---
南部台風被害の義援金 ホンダは300万バーツ
---
18年のBOI投資申請 目標を25%上回る9千億バーツ
---
バンコク首都圏の大気汚染 PM2.5濃度 再び危険水準に
---
マイルド・ハイブリッド車 EVの優遇物品税率を適用へ
---