Toyo Tanso (Thailand) Co., Ltd.
The pioneer of carbon such as artificial graphite
We have so far produced various evolutionary carbon products. They are now widely adopted in the fields of leading-edge technology, used for semiconductor and aerospace production.
Toyo Tanso's products are used in every situation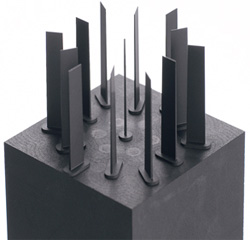 Our products are for semiconductor, metallurgy, machinery, electricity and the like. We mostly deal with mold and heat treatment manufacturers. ​
~CARBON PRODUCTS~
| Special Graphite Products | Carbon Products for Mechanical Applications | C/C composite Products |
| --- | --- | --- |
| Graphite Sheets (PERMA-FOIL®) | Carbon Brush Products | Products page |
19 Mar 2019

15 Mar 2019

13 Mar 2019

08 Mar 2019

07 Mar 2019
U-MACHINE

U-MACHINEはタイで活躍する製造業に携わる日本人に向けて情報発信している『日本語工業月刊誌』です。
少しでも多くタイのビジネス情報をご提供することで、在タイ日系製造業が部品、材料、素材などの国内調達やタイでのビジネスを円滑に行うお手伝いができると信じております。
タイ経済ニュース【​2019年3月11日】

---
バッテリーEVの物品税 3年間の時限免除 20~22年 ピックアップ車はPM排出量で減税
---
3空港接続東部高速鉄道 CPグループと19日最終交渉
---
BOI年次フォーラム開催 EEC開発継続 首相が保証
---
天然ゴム生産3国合意 4月から輸出24万トン削減
---
タイ国内のスマホ市場 サムスンが首位陥落OPPO首位に
---