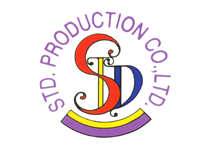 STD. PRODUCTION CO., LTD.
Integrated Production - Die Design & Assembly, Press, Welding, Painting & EDP
Message from the Management
STD. Production Co.,Ltd. was built since 1989, and has been long experience in Automotive parts (Press, Welding, EDP, Painting). We confidently fulfill strict requirements given by customers taking much account of :

Q (Quality Reliability)
C (Cost Competitiveness)
D (Delivery On-Time)
M (Management Control)
S (Safety and Environment Control)

We are moving forward with innovative technology, and sustain strong team work to awareness of Social, Environmental responsibility and with our great confidence.

The quality products of STD. are not only ensured by Modern technology and Testing equipments but also improve skills of employees. We expect to grow at the same pace with industry growth, eventually to keep up with global standard.
Managing Director: Ms. Pagarat Theppradit
Company Name
STD. PRODUCTION CO., LTD.
Representative Person
Managing Director : Ms. PAGARAT THEPPRADIT
Business Description
■ Die Production
■ Press
■ Welding
■ EDP
■ Painting
Product Line
■ Painting & Coating
- ELECTRO DEPOSIT PAINTING (EDP) Acrylic & Epoxy
- ALUMINIUM & PLASTIC PAINTING
- HEAT RESISTANCE PAINTING
■ Stamping Press
■ Welding
■ Die (Design and Assembly)
Address
160-160/1, 160/9-10 85/38 Moo 5, Phuthamonthon 5 Rd, Omnoi,
Krathumben, Samutsakhon 74130
Thailand
TEL
0-2810-3653-8
FAX
0-2810-3659
TEL (Mr. Teerawat) : Ext. 27
TEL (Mr. Konno) (Japanese) : 08-8022-8557
E-mail (Mr. Teerawat) : std_company@yahoo.com
E-mail (Ms. Pagarat) : nuununne@yahoo.com.sg
E-mail (Mr. Konno) (Japanese) : konno_std@yahoo.com
Major Customer
■ THAI HONDA
■ THAI MARUJUN 
■ INGRESS
■ THAI YANAGAWA
■ THAI ENGINEERING
■ YS TECH
■ ENDO LIGHTING
■ THAI SAMMIT
etc...
##cookieAndPrivacyPolicy##