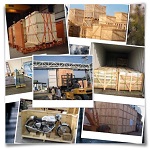 Soravit Group タイの木製パレットのリーダー
Leader in Wooden Pallet Supply locate in Thailand タイの木製パレットのリーダー
Wood Pallet and Wooden Crates Supplier タイの木製パレットのリーダー
Welcome to Soravit Group Website; www.soravitgroup.com
Soravit offers a certification service, as well as fumigation and heat treatment, for your wood packaging materials. To ensure your compliance with wood packaging material regulations, we perform this service in accordance with regulation 15 of the International Standards for Phytosanitary Measures (ISPM15).
Developed by the International Plant Protection Convention (IPPC), ISPM15 helps to prevent the international transportation of diseases and insects that could negatively affect plants or ecosystems. Therefore, compliance proves your competence in public health and your interest in environmental concerns.
We take care of your wooden packaging – including pallets and crates – with either a fumigation (with methylbromide) service or a heat treatment. Either way, we follow the relevant safety, quality and environmental guidelines and can issue the appropriate certificate in paper form, or as an e-certificate if required.
To ensure that your wooden packaging conforms to ISPM15, and that you get the certification you need, contact Soravit Recycle and Packing now.
SERVICES:
We've designed our business in order to be flexible enough to quickly produce quantities of custom pallets and protective crates. We will consider your overall cost per unit load, and identify opportunities for you to save money. One of the keys to pallet cost effectiveness is their recyclability. We can provide a full set of pallet reclamation, recycling, and remanufacturing services in order to make sure that your materials don't go to waste, while at the same time, making sure that your unit loads are well protected. We would love to sit down with you and discuss your shipping needs. Protecting your shipment and streamlining your business is what it's all about, and we have the experience to solve any shipping problem or improve your efficiency. If your current pallets are resulting in breakage, let us help you understand how to better protect your products.
CUT-TO-SIZE COMPONENTS:
Need custom sized, pre-cut wood components for your product, packaging, or warehouse? We have a large inventory of lumber, plywood, and other wood materials. We can remanufacture them for you, quickly, and economically. CUSTOM DESIGN: We can make pallets for any specification, and our flexible manufacturing process means that custom designed pallets can be produced efficiently, consistently, and in a cost-effective manner. On-Site and In-House Packing Services. Our experienced packing crews will vacuum pack, protect, load, block and brace, containerize, and prepare your product and/or equipment for shipment and safe arrival anywhere in the world. At your site or at our facility.
PROTECTIVE SHIPPING CRATES:
We work with other local suppliers to combine quality wood construction with high-density foam and corrugated to ensure total protection for your shipped products.
Company Name
Soravit Group タイの木製パレットのリーダー
Soravit Group タイの木製パレットのリーダー
Product Line
Wooden Pallet / Wooden Crate and Machine Relocate Service. タイの木製パレットのリーダー
Soravitrecycle
นครชัยศรี, Nakhon Chai Si, Nakhon Pathom
Thailand
TEL 081-424-1576
Website
http:// www.soravitgroup.com
Wood Pallet and Wooden Crates Supply [タイの木製パレットのリーダー]
Shareholder
Ms.Naruemol Wongsakul
Ms.Sasiwimol Keatboonlue