Toyonaka Hot Laboratory Co., Ltd.
Your solution for hose and heater problems.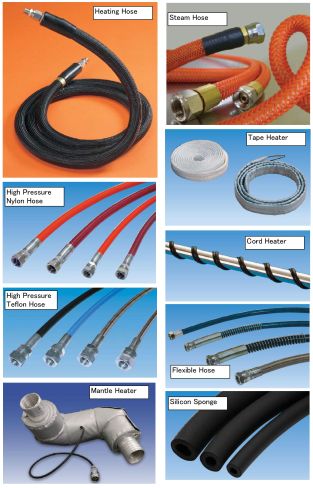 Introduction
We are a specialized company in the manufacturing of industrial hose for liquid and gas including manufacturing of hose where temperature control is critical. We are manufacturing our products for domestics and foreign industries such as automotive, shipbuilding, construction, semiconductor, sanitary, bookbinding, food, medical and apparel. Our hoses are used in painting, sealing, hot melt adhesives, resin moulding, steam cleaning and gas sampling. Our company's ISO9001 designation guarantees that continuous efforts are made to meet the high-quality standards of the Japanese local market and aims to deliver these same high-quality standards to international markets as well.
Company Name
Toyonaka Hot Laboratory Co., Ltd.
Representative Person
CEO: Mr. Toshio Kawahara
Business Description
We are specialized in custom-made hose and heater
Product Line
Hot/Heating Hose
Hot/Heating Tube
High Pressure Teflon Hose
High Pressure Nylon Hose
Airless Hose
Flexible Hose
Steam Hose
Iron Hose
Mantle/Cover/Jacket Heater
Tape/Ribbon Heater
Code Heater
Silicon Sponge
Contact Us!
209 Techno Front Morigasaki 4-6-15, Omoriminami, Ota, Tokyo 143-0013
Japan
TEL +81357377221
FAX +81364239375
E-mail firdaus@toyonakahot.co.jp
Website
http://www.toyonakahot.co.jp/E.html
Establish Date
Founded on August 1967
Established on April 1987
Capital
10,000,000 Japanese Yen
Bank
Resona Bank, Toyonakahattori Branch
Certificate
ISO9001
JQA-QM8519
Major Customer
Toyota
Nissan
Honda Motor Company
Mazda Motor Corporation
Fuji Heavy Industries
Suzuki
Daihatsu
Isuzu Motors Ltd.
Kawasaki Heavy Industries Ltd.
Oshima Shipbuilding Co., Ltd.
Mitsubishi Heavy Industries
Panasonic
Fuji Electric
Lotte
Shiseido
Kao Corporation
Hisamitsu Pharmaceuticals Co., Ltd.
Lion Corporation
Unicharm
Fujikura
Horiba
Naomoto
Nichireki
JAXA
Ministry of Defense