Sadoshima (Thailand) Co., Ltd.
Metal Stamping and Sub-Assembling for Precision Machinery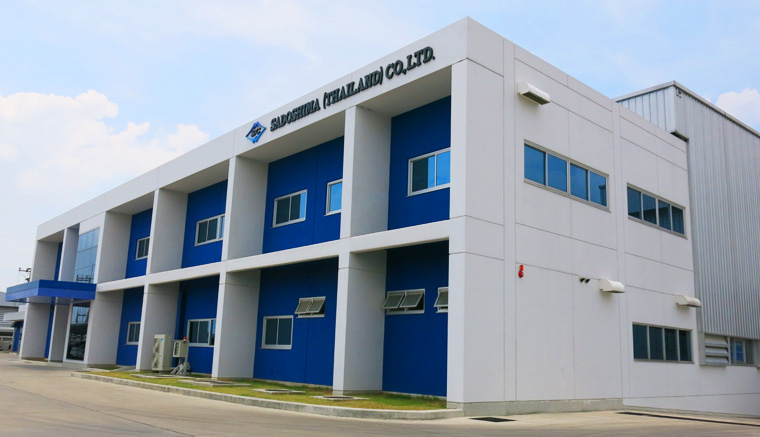 Founded in 1876
Line up : Raw materials, Processing and Finished Goods.
Manufacturing and service to meet customers requirements in Japan as well as Asia.
---
Sadoshima (Thailand) Co., Ltd is 100% invested by Sadoshima Corporation in Japan. Sadoshima Corporation is specialized in wholesaling Steel products and Non-Ferrous items. Sadoshima has a wide range of facilities not only raw materials supply but also
Steel coil center, Metal forming, Metal pressing and painting, having many branch offices and prcessing bases all over the Japan Archipelago.
Sadoshima (Thailand) Co., Ltd provides with high-accuracy press parts and semi-assembling for Electronics Industries of OA complex equipment and others, to satisfy customers requirements of which quality standard is every day enhaunced.
Company Name
Sadoshima (Thailand) Co., Ltd.
Business Description
Metal Pressing, Semi-Assembling and other related processing
Domestic and International trading of Precoated materials,
Steel coated sheet and Non-Ferrous products.
Address
Amata City Rayong Industrial Estate
7/437 Moo 6, Tambol Mabyangporn, Pluak Daeng, Rayong 21140
Thailand
TEL 038-027-508, 510, 511
FAX 038-027-509
For Thai
suriwassa suriwassa.c@sadoshima.co.th 038-027-508, 510, 511
For Japanese
Takizawa takizawa.koichi@sadoshima.co.th 061-384-5199
Website
http://www.sadoshima.com/index.html
Parent Company
Sadoshima Corporation
1chome 16-19, Shimanouchi, Chuo-ku, Osaka 542-0082 Japan
Certificate
ISO9001:2015, ISO14001:2015 (Acquired in Dec, 2016)
IATF16949:2016 (Scheduled to acquire)
##cookieAndPrivacyPolicy##