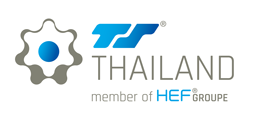 Techniques Surfaces (Thailand) Ltd. / TS Thailand
Nitriding Surface Treatment and PVD Coating services
METALEX 2023 Information
≪ Stand: AG05 ≫

Date: 22-25 November 2023
​Venue:BITEC(Bangkok International Trade & Exhibition Centre)

Thank you for spending your time visiting our booth.
SALT BATH NITRIDING SERVICE

---

Features

Great wear resistance, seizure resistance, corrosion resistance, impact resistance, less deformation after surface treatment.

Various processes are prepared according to performance required.
DLC / PVD / PECVD
COATING SERVICE

---

Features

Various DLC / PVD low temperature coating with great wear resistance and seizure resistance PROCEM coating to take EMC countermeasure on plastic parts
---
What is the HEF Group?
HEF group has an origin with Tribology Reserch Institute in Lyon of France since 1953. In order to resolve the issues (wear, friction problems, low friction, light weight, compactification) concerning customers' mechanical parts damage and machine efficiency improvement, we constantly develop new technology on the surface and continue to lead innovation of mechanical engineering worldwide. Currently we have 62 factories in 21 countries around the world, including contracted research business and supplying various surface-improved services. In the manufacturing industry, the surface treatment of HEF such as 'TUFFTRIDE' treatment, 'low temperature DLC' treatment, electromagnetic shielding coating 'PROCEM' treatment are widely adopted by the manufacturing companies around the world.