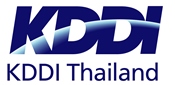 KDDI(THAILAND)LTD.
Tomorrow, Together
Business
KDDI Thailand is a subsidiary of KDDI Corporation, a one-stop provider that offers a multitude of communication services. KDDI Thailand provides comprehensive global and local ICT solutions as well as support for business development in Thailand using our close teamwork with our headquarters, our Singapore office (the regional headquarters) and other subsidiaries in the region.
KDDI Thailand offers variety of services, from international network services and LAN establishment to the supply of one PC unit, providing high quality support based on customer business requirements.
#RPA #IoT #IT #DX #SD-WAN # Wi-Fi #Data Center #Network #Smart factory
Company Name
KDDI(THAILAND)LTD.
KDDI(THAILAND)LTD.
Business Description
System Integration, Data Center service, Network Service, etc
One stop services contact KDDI Thailand, satisfaction already to serve
Product Line
<RPA> Robotic Process Automation
https://th.kddi.com/products_services/detail2/uipath-with-kddi.html
<AWS>Amazon Web Service (Cloud service )
<Factory line visualization>(IoT service )
<Network & Server solutions>
https://th.kddi.com/products_services/category/network.html
Room No. 902, 9/F
208 Wireless Road Building
208 Wireless Road, Lumpini
Pathumwan, Bangkok 10330 Thailand, Ang Thong 10330
Thailand
Contact List
sales@kddi.co.th

Thailand
Website
https://th.kddi.com/
##cookieAndPrivacyPolicy##