Back to Fact-Link's Top Page > Interpretation, Translation > ITP ASIA CO.,LTD.



Japanese company which offers document translation service in various languages such as Thai, Myanmar,Bahasa Indonesia, Vietnam etc.
​

ITP ASIA CO.,LTD. Japanese Professional Translation Company
Company Profile
Company Name
ITP ASIA CO.,LTD.
Representative Person
Executive Chairman Koyama Yoshikazu
Business Description
Various languages translation service, DPT, Editorial, Create digital content, artwork design,marketing research and analysis. Comparing test, event set up, printing, Digital Signage, online marketing
* 90% are in-house work.

Address
589/160 Central City Bangna Tower1, Room OI-30B2C, 30th floor, Bangna, Bang Na, Bangkok 10260
Thailand
TEL
0-2745-6050 Ext. 701(Japanese) 0-2745-6050-4 (Thai)
FAX
0-2740-6056
contact (Koyama) yoshikazu.k@itp.co.th
Office in Thailand
Headquater: Bangna
branch-office: Samrong( Sale, design dept.), Chachoengsao (sale, logistic dept.)
Logistic center: Bangna
Associated company: Ishida Taiseisha Yamagata (Thailand) Co., Ltd.
Parent Company
ITP Inc. ( Changed the name from Ishida Taiseisha Inc. since 2020 )
[Headquarters]
〒604-0087 Ogawa Nishiiru, Marutamachi-Dori, Nakagyo-ku, Kyoto
TEL: 075-211-9111

Employee
75 (not include associated company)
Oversea bases
​31 bases:Japan, America, Belguim, Slovakia, Dubai, China.
Singapore, Malaysia, Indonesia, Vietnam, Myanmar(representative office),
Laos(representative office), Cambodia
(representative office)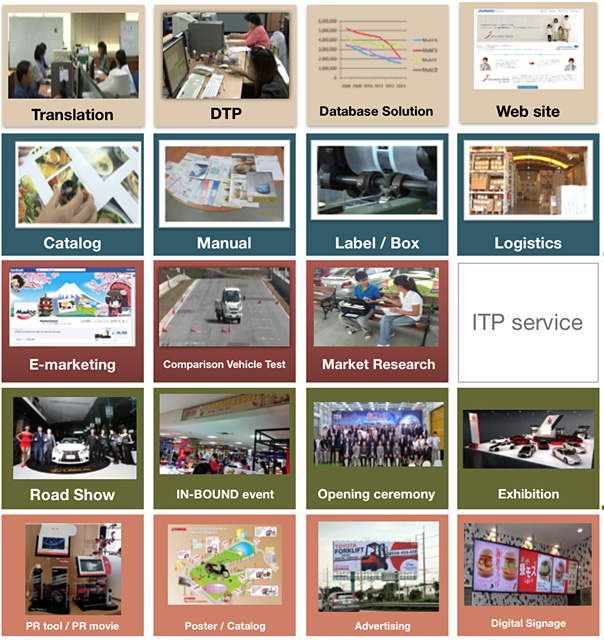 We can translate to various languages such as Thai, Burmese, and other languages in ASEAN.
ITP ASIA CO.,LTD. Headquarter: Bangna Sales office: Samrong, Chachoengsao Logistic center: Bangna Printing Factory: Bangpho