Thai Takasago Co., Ltd.
Designing and constructing HVAC systems, electrical facilities, Clean Room and IoT System,etc.
---
Air Purifier ERU
---
---

Capturing viruses floating in the air by small particle with a HEPA filter used in the operating room

---

New normal with COVID 19

Air Purifier ERU

■ High air flow 18m3 /min ■ Low noise 49.5dB(A)

​
---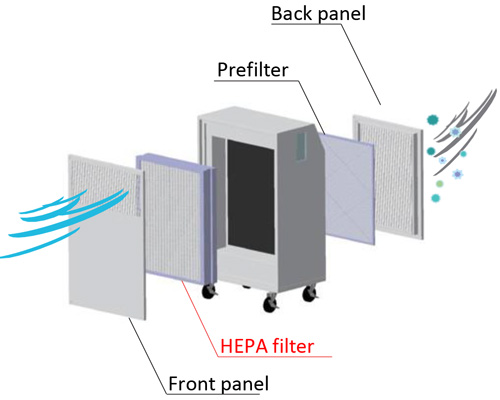 ​
※The guideline for replacing the HEPA filter is 1 year, but it may change depending on the installation area conditions.
Simulation of concentration changes in room
---
【Condition】

● Room status : No ventilation system

● Area : 121m2 (11m×11m)

● Air flow : 18m3 /min

● Air change rate : 3 times /hour

● Relative concentration : 0~100%

※Compare the initial state as 100%
※Relative concentration by color
​

​
---
★ Sony Device Technology (Thailand) Co., Ltd.
Product introduction video
---
​
---
Item
Specification
Power source
220V 50Hz
Electrical Characteristics
Power consumption
100W
Operating current
1.0A
Fan System
Fan Type × Quantity
Turbo fan ×1
Air volume
18m3 /min
Ex-unit Static Pressure
0Pa
Fan Motor Rated Output
200W
Power supply Connection Part
Power cord 3 m (with ground)
Outer Dimensions
Height
1172mm
Width
700mm
Depth
480mm
Sound Level
49.5dB(A)
HEPA filter
Rated Dust Collection Efficiency
99.97% at 0.3μm
Unit Weight
61kg
Note
・ Use range: 0℃ to 40℃, RH 80% or less
・ Storage temperature: -20℃ to 80℃
・ The sound level is an anechoic room data 1m from the floor and 1m from each side. The operating condition is DB 20℃
・ The specification is the value at the fan rotation speed initial value of 750 rpm.