Hot Air Generator model SHG

【Standard Specification】
3-Phase 380V、200V

 (5kW、10kW、15kW)
---
| | | |
| --- | --- | --- |
| excellent thermal efficiency | | excellent coolability |
Thermal efficiency of this is better than tubular heater type. Because heat source made of nichrome wire heats air directly.
(cast mulite heat-resistant material with excellent insulating property and heat-resisting,and put nichrome coiled heater in it. Because of it,we could make low heat loss and excellent thermal efficient heater.)

Because heat source is made of nichrome wire, it needs low heat capacity. Because of it, it needs little operation to cool.
(In case of using tubular heater, it needs 30sec- 1 min fan operation to cool after using. But in case of our heater, it needs only 0-10 sec.)
| | | |
| --- | --- | --- |
| efficient structure | | noise reduction |
Insulator figure is extremely low air resistance.
(Application for design registration) Because of special grid of air intake, this structure is good efficiency for temperature distribution.

The structure of blower is not plate type, but sweep-back wing type turbo fan. So fan diameter is small. It is good for fan efficiency and noise reduction.
| | | |
| --- | --- | --- |
| easy operation | | easily secure an installation space |
Easy operation with microcomputer.
Especially, it is easy to set timer.

It is used effectively in small place with good, less projection design.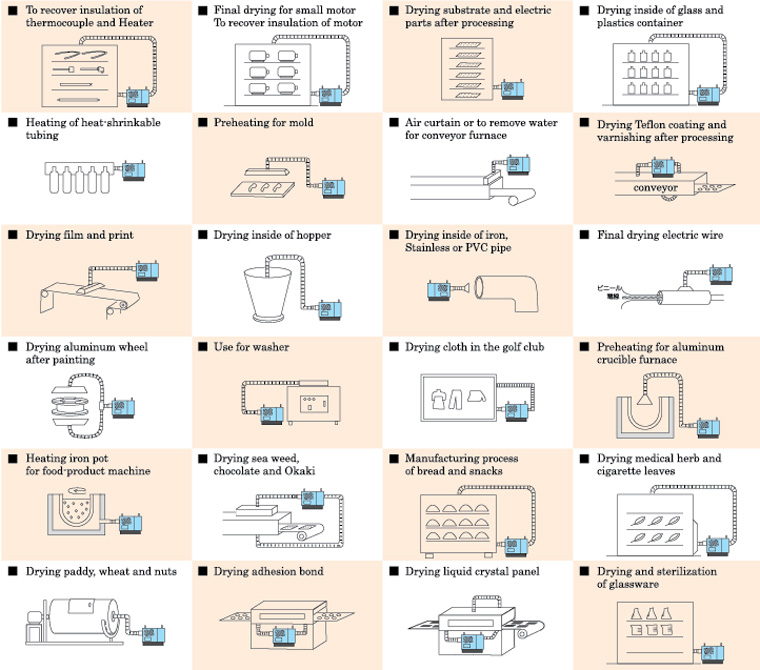 ​

about "××" part : 3-phrase 200V type is "20" / 3-phrase 380V type is "38"

Model

SHG-××03

SHG-××05

SHG-××07

SHG-××10

Power Supply

3-phrase 200V、380V

3-phrase 200V、380V

3-phrase 200V、380V

3-phrase 200V、380V

Heater Capacity

3kW

5kW

7.5kW

10kW

Temp Usable Range

normal temperature~350℃

normal temperature~350℃

normal temperature~350℃

normal temperature~350℃

Max Capacity of Air Supply
(50Hz/60Hz)

3.6 / 4.4 ㎥/min

3.6 / 4.4  ㎥/min

3.6 / 4.4 ㎥/min

5.2 / 6.0 ㎥/min

Max Static Pressure
(50Hz/60Hz)

0.6 / 0.85 kpa

0.6 / 0.85 kpa

0.6 / 0.85 kpa

0.8 / 1.15 kpa

Suction Air Temp During Circulation

220℃

220℃

220℃

220℃

Air Volume Control System

manual damper

manual damper

manual damper

manual damper

Motor Capacity

0.1kW

0.1kW

0.1kW

0.2kW

Noise

67dB

67dB

67dB

70dB

Net Weight (approx)

26kg

26kg

26kg

38kg

WxDxH (panel part)

590x260x400

590x260x400

590x260x400

840x260x415
​

about "××" part : 3-phrase 200V type is "20" / 3-phrase 380V type is "38"

Model

SHG-××15

SHG-××20

SHG-××25

SHG-××30

Power Supply

3-phrase 200V、380V

3-phrase 200V、380V

3-phrase 200V、380V

3-phrase 200V、380V

Heater Capacity

15kW

20kW

25kW

30kW

Temp Usable Range

normal temperature~350℃

normal temperature~350℃

normal temperature~350℃

normal temperature~350℃

Max Capacity of Air Supply
(50Hz/60Hz)

10.8 / 12.8 ㎥/min

16.8 / 20  ㎥/min

25 / 25 ㎥/min

25 / 25 ㎥/min

Max Static Pressure
(50Hz/60Hz)

1.3 / 1.9 kpa

1.4 / 2.0 kpa

1.6 / 2.3 kpa

1.6 / 2.3 kpa

Suction Air Temp During Circulation

220℃

220℃

220℃

220℃

Air Volume Control System

manual damper

manual damper

manual damper

manual damper

Motor Capacity

0.4kW

0.75kW

1.0kW

1.0kW

Noise

76dB

76dB

76dB

76dB

Net Weight (approx)

75kg

75kg

75kg

75kg

WxDxH (panel part)

1009x340x500

1099x436x610

1099x436x610

1099x436x610