Various Component Materials, PCB, Cleaning Agents and Lubricants
---
"CELPURGE" (Daicel Miraizu) Cleaning Agent (Purging Agent) for Plastic Molding Machines  
​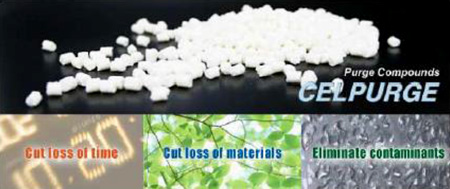 A wide range of resins are covered, from general-purpose resins to engineering plastics and some super engineering plastics.
There are grades suitable not only for injection molding machine
cylinders/screws, but also for hot runner, inflation/film molding,
blow molding, extrusion and kneading machines.
Type
Grade
Applicable Resin
Hot Runner
Filler
Recommended Operating Temperature

For General-Purpose Resins

NX-VC2
PP, FR-PP
○ Mold Opening
-
160 - 240℃
NX-E
TPE, PVC, PE
○ Mold Opening/Molding
-
140 - 240℃
NX-A2
ABS, PMMA
○ Mold Opening/Molding
-
180 - 270℃
NX-P2S
PP
○ Mold Opening/Molding
-
180 - 260℃
NX-S
PS
○ Mold Opening/Molding
-
200 - 250℃
For Engineering Plastics
NX-VN2
Engineering Plastics ABS,
FR-ABS, PMMA
△
-
180 - 280℃
NX-VK2
△

Inorganic (Non-GF)

200 - 320℃
AW2
△
Inorganic
(Non-GF)
200 - 320℃
NX-VG2
×
GF
200 - 320℃
NX-VG3

For High Temperatures (≧300 ℃)
Use Improvement Grade

×
GF
250 - 340℃
For High Temperatures
NX-HG
PPS, PA9T,
LCP (Ⅱ, Ⅲ) etc.
×
GF
180 - 370℃
"FROIL" and "HANARL" (Kanto Kasei) Special Synthetic Lubricant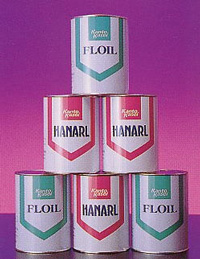 Our lubricants "Floil" and "Hanarl" are used in various applications such as mechanical, electrical contact, conductive, torque, impregnation, heat dissipation and other applications in high-tech devices such as TVs, cameras, computers, smartphones and automotive electrical components.
●Floil: High performance special synthetic lubricant with excellent low temperature, sound deadening and durability
  Mechanism grease and oil / Contact grease and oil / Torque damper grease
  Electrical Conductive Grease / Impregnation Oil / Fluorine Grease / Heat Dissipation Compound
●HANARL: Dry and Semi-wet Quick-drying Lubricants
  Dry film lubricant (semi-wet / completely dry type), etc.
​
SANKOL (SANKEIKAGAKU) Lubricant for Electronic and Precision Equipment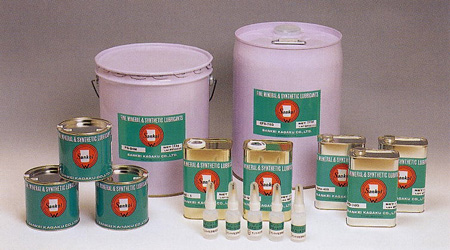 "SANKOL" is a brand of special lubricants developed for electronic and precision equipment. It is widely used in all moving parts of electronic and precision equipment that require high specifications.
●Fast-drying lubricant
Liquid, high-performance lubricant. This can be applied to mechanical parts that require a light slip.
●Grease Type
High performance lubricant in paste form. This can be applied to friction prevention and sound deadening of heavy-load parts.

​ 

 ​