TAISEI KOGYO (THAILAND) CO.,LTD.
Production and sales of metal injection molding (MIM) parts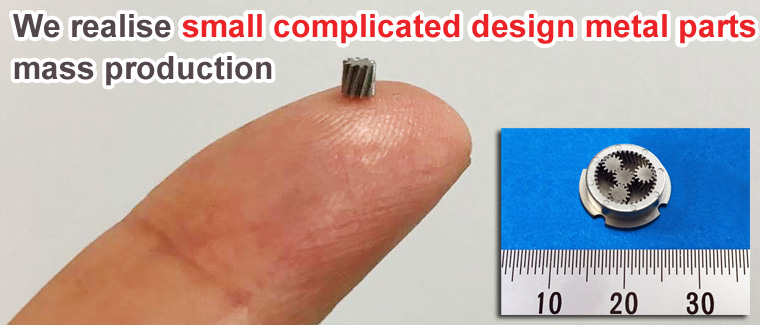 Metal injection moulding, MIM
We accept trial to mass production of precise complicated designed product using our μ-MIM® technology
This planetary helical gear, which is on the fingertip, is 2.5 mm height and diameter. And the internal helical gear, containing the 4 gears of 2.5 mm helical gear, the internal diameter is less than 10 mm. This internal helical gear has the lit at the bottom side, thus it is impossible to compose by machining.
We are capable to mass produce those gears a few million pieces per month, while the machining is 30,000 to 50,000 pieces per month.
Surely, we accept not only these special gears production but also the complicated designed small metal component mass production using our μ-MIM® technology.
Please contact us if you are struggling to realise mass production your product, to reduce processing cost, or if you are not satisfied present MIM production. ​⇒More details
---
---
Applications

---

Medical; endoscope, inspection machine, implant
Precision machine; camera, mobile phone, wristwatch
Machining centre; gears, industrial tool, gas turbine, bearing
Automotive; filter, actuator
Electronic; OA machine, peltier (thermoelectric) device


More details→"Our Technology" page
---
Manufacturing

---

We will configure our manufacturing line according to your request from wide variety in small quantities to mass production.

We deliver the products with our rigorous quality control standard.


More details→"Manufacturing" page
​
---