TRIGO QUALITY SERVICES (Thailand) Co., Ltd.
TRIGO solve your quality issues as a reliable partner.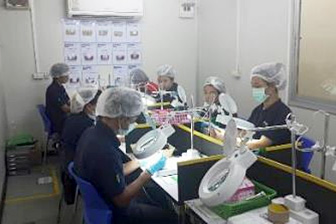 TRIGO Thailand, established in 2012, delivers scalable and comprehensive Quality solutions from Containment actions to refined Quality Development packages in Hemaraj Eastern Seaboard Industrial Estate, Rayong and Amata City Chonburi Industrial Estate in Chonburi.
TRIGO global quality network
Founded in 1997, TRIGO is a multinational company providing operational Quality Management solutions for the manufacturing sector, especially in the transportation industries. With a team of 10,000+ professionals present in 20+ countries across 4 continents, TRIGO offers a comprehensive portfolio of Quality Inspection, Engineering and Management Services all along the supply chain.

Are you facing these challenges?
| | | |
| --- | --- | --- |
| Your Suppliers are located overseas and difficult to send their support team when there is a quality issue. | Your Manufacturing Plant facing difficulty and flexibility to handle unexpected quality incident from their suppliers / customers. | Minimize your labor head count and cost saving compare to hire permanent quality inspectors. |
Our Sectorial Focus

|   AUTOMOTIVE   |   AEROSPACE    | OTHER TRANSPORTATION | POWER & ELECTRONICS |
| --- | --- | --- | --- |
21 Oct 2021

19 Oct 2021

18 Oct 2021

12 Oct 2021

11 Oct 2021
タイ経済ニュース【​2021年10月11日】

---
BOI投資申請 1~9月期 金額で昨年通年を上回る
---
長城汽車(タイ) EVを発売
---
IT製品小売のCOM7 店舗網拡充など積極展開へ
---
「タイ・デジタル・バレー」 第3フェーズに着手
---
マツダの販売台数 9月は前月比64%増
---