THAI NITTO SEIKO MACHINERY CO.,LTD.
Fastening solution that support maufacturing practices worldwide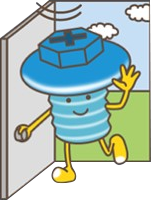 Thai Nitto Seiko Machinery Co., Ltd. was established in July 2013, Distributors of screw driving machines, assembly lines and inspection equipment. In conjunction with "Nitto Seiko (Thailand) Co., Ltd." is a existing industrial fasteners manufacturing and sales company, We will accelerate the global expansion.
★Featured Product★
A High quality automatic screw driving tool built-In collaborative robots
Space-saving unit mounted collaborative robot with technical excellence. No Safety fence is necessary.
Examples of what can be done with it
Bolt Fastening, Tap Fastening, Nut Fastening, Two stage Fastening, Clockwise/Anti-Clockwise, Rotate and synchronous applicable.
It is a package tool which assembles a vacuum attachment onto NX Driver SD600T, AC servo screw driver with torque transducer.
A typical application is that taking a screw out from a parts feeder and fastening to object like a thin plate with target torque. This automatic unit is applied for not only with collaborative robots, but also mounted multi joint robot.

We are able to respond to requirements for inspection and packing processes.
By working collaboratively between divisions and jointly with domestic and overseas group companies fastening techniques, but also production process improvements for greater efficiency with individual customer requirements.
| AC Servo Screw Driver​ | Screw Driving Robots | Single Spindle Screw Driving Machine |
| --- | --- | --- |
| Multi Spindle Screw Driving Machine | Screw Feeder | Handy automatic screw driving machine |
| Arm Driver | Caulking Machines (Riveting, Eyeleting) | View Details |
22 Jul 2021

21 Jul 2021

19 Jul 2021

14 Jul 2021

09 Jul 2021
タイ経済ニュース【​2021年7月19日】

---
チャチュンサオに新工業団地 APEXとIEATが計画
---
バーツ安が進行 FTIも注視
---
EV充電器のシャージ ユーティリティトークン発行へ 国内初
---
ダウ・タイランド PG生産能力増強
---
中小輸出業者向け ソフトローンを導入 商業省
---