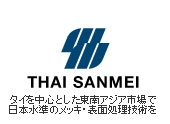 THAI SANMEI CO., LTD.
Domesticize the Japan-quality surface treatment technology in China and SE Asia including Thailand
Overall Plating Support from Pre-process to Post-process
As a specialized trading company of Plating, Surface treatment indutry, we provide for safe and good working environment.
Various types of chemical agents, chemical conversion coating as well as those of equipment and analyzing device are our main products.

Japanese-quality plating/ surface treatment technology offered in SE ASIA especially in Thailand.
We provide surface treatment technology at the same level as that of Japan.

Make the most of Southeast Asia, China branches for your Localization
Sanmei Group, so far, has expanded business network through Asian countries, China, Hong Kong, Vietnam, Philippines.
Business ranges are from Equipment design to chemical agents sales supported by Japanese assistances who are happy to support all-round.

14 Jun 2021

10 Jun 2021

09 Jun 2021

04 Jun 2021

02 Jun 2021
タイ経済ニュース【​2021年6月7日】

---
新たな経済対策を決定 消費刺激などに1600億B 1日の閣議
---
PTTと鴻海が提携 タイでEV生産を計画
---
長城汽車のラヨン工場 6月9日正式オープン
---
宅配のフラッシュ・グループ タイ初のユニコーンに
---
タイ中銀の月例経済金融報告 5月31日の発表より
---